We Design Amazing Jewelry for Any Occasion and Any Budget.
Custom Design Jewelry
Work With Our Jeweler on a Custom Design Piece
for that Special Occasion…
Charisma Jewelers – Rochester New York
A world of rings is waiting for you at Charisma Jewelers! Any metal, any setting, any diamond custom made JUST FOR YOU! You'll find the ring of your dreams at any budget.
1,982 of the most sought after ring designs displayed in open cases. Look at them, touch them, and try them on. Take your time and shop at your pace. After you choose your personal style and your diamond, your perfect ring will be custom created just for you! Let us help you create a moment she'll never forget!
We invite you to visit our jewelry store located at 2330 West Ridge Road, Rochester, NY 14626 where you can see and try out a large selection of engagement rings, wedding rings, diamond jewelry and much more.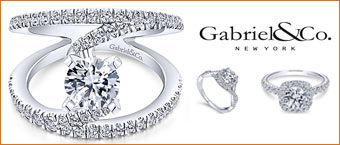 Gabriel & Company
… Gabriel produces a timeless, classic jewelry line that sets itself apart from ordinary looks. These rings are crafted for couples who appreciate the joy that fine jewelry can bring. Gabriel rings are made for those who are serious about finding a piece that will elicit compliments and also stand the test of time.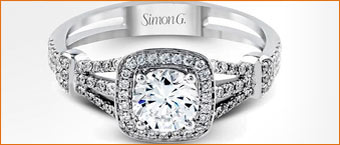 Simon G. in Rochester NY
… Whether you are celebrating a marriage with engagement rings or wedding bands, or looking for other jewelry pieces such as bracelets, earrings, and pendants, Simon G. has the finest pieces to choose from. Celebrating achievements, love, and life itself with fine designer jewelry from Simon G. through Charisma Jewelers.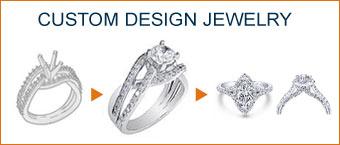 Custom Jewelry in Rochester New York
… At Charisma Jewelers, we make it easy to bring your custom piece of jewelry to life. Choose Your Own Settings and Gemstones. Original, contemporary and traditional jewelry designs exquisitely handmade for you here in Rochester, New York.